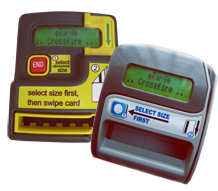 ACCEPT CREDIT CARDS RIGHT
AT YOUR BALL DISPENSER

New eRange Crossfire lets you accept credit cards right at your ball dispenser. You can eliminate tokens with our patented wireless PIN method. Reduce theft by using PINs; accept Credit Cards or Gift Cards, eRange eKeys or eRange WebPass to purchase baskets right at your ball dispensers.
BETTER MANAGEMENT – BIGGER PROFITS
admin@e-range.com
Our customers have helped us to build one of the best range software systems available. Free upgrades to more powerful products, free merchandise, free hardware. Help us to improve this already powerful product.